Pantry Essentials

184

products

Fresh Food

41

products

Biscuits & Crackers

32

products

Charcuterie

11

products

Conserves

38

products

Oils & Vinegars

16

products

Oats, Muesli & Granolas

4

products

Pasta

15

products

Preserves

31

products

Rice

6

products

Sauces

43

products

Snacking

13

products

Sweets & Chocolates

8

products

Spices

28

products

Tea & Coffee

21

products
Showing 6 of 184 products on Pantry Essentials collection
Showing 6 of 41 products on Fresh Food collection
Showing 6 of 32 products on Biscuits & Crackers collection
Showing 6 of 11 products on Charcuterie collection
Showing 6 of 38 products on Conserves collection
Showing 6 of 16 products on Oils & Vinegars collection
Showing 6 of 15 products on Pasta collection
Showing 6 of 31 products on Preserves collection
Showing 6 of 43 products on Sauces collection
Showing 6 of 13 products on Snacking collection
Showing 6 of 8 products on Sweets & Chocolates collection
Showing 6 of 28 products on Spices collection
Showing 6 of 21 products on Tea & Coffee collection
Quality food, locally sourced
The Passage Pantry was built on a passion for food, sustainability and community, with these values being at the core of everything we do. We choose to work with mostly local producers and farmers that care as much about our planet as we do, so that we can provide seasonal and fresh products for our local community.
We truly believe that sustainable food and drink should never compromise on quality or taste and should be affordable and accessible for everyone who want exceptional quality products.
Our Producers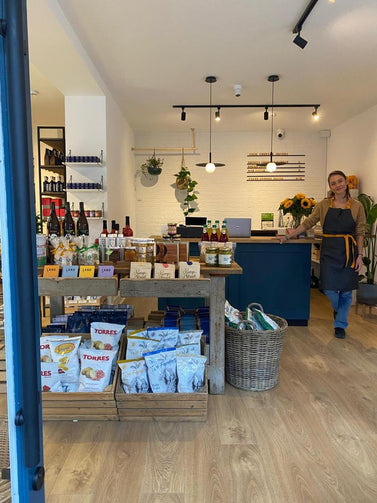 Featured product
Jose Gourmet Sardines in Extra Virgin Olive Oil
Vendor

The Passage Pantry

Regular price

Sale price

$7.00
Tax included.
Shipping
calculated at checkout.
Word has it that the best sardines come from neighbouring waters. From the Atlantic and Mediterranean fresh sardines with a silver shine. Add quality olive oil to wine and dine! Olive oil has always been one of the desired partners in Portuguese cuisine, and only excellent ingredients can aspire to have memorable encounters with such a refined olive oil.

The sardines swam along the Atlantic coast, up and down, laughing and stretching, shaking and bending!

120g
Artisan Food & Drink Shop Islington, London
Welcome to The Passage Pantry! your local one-stop-shop for sustainable and ethically sourced produce. We have proudly been providing the community of Islington and its surrounding areas with some of the very best artisanal goods available in the area; taking full advantage of local providers who share our same passion for artisanal and sustainable fare. We actively choose to work with mostly local farmers and producers, who are some of the best in their industry, providing fresh and seasonal products year round. We believe that living sustainably should never mean compromising on quality.
With more and more of our community becoming environmentally conscious, we have seen a significant increase in requests for ethically sourced food and drink. When we opened The Passage Pantry's doors to the public in Islington, we did so with three core values in mind: a passion for food, sustainability and community. Because of these commitments, over the years we have seen many members of our community come through our doors to take their first of many steps towards sustainability, and are extremely proud and honoured to be able to provide this integral service to the people of Islington and their loved ones.
Artisan Store Islington
At The Passage Pantry, our mission above all is to make artisanal goods accessible, affordable and sustainable – all whilst never ever compromising on quality and taste. We believe that everyone should be able to access exceptional quality produce, no matter what, which is why we also offer same-day online delivery to areas within our 2 mile radius! We also believe that we should always take advantage of the local resources where we can, which is why we proudly supply only the very freshest and in-season produce and products.
Our huge selection of artisanal products range from cupboard essentials, fresh produce and teas & coffees, all the way to herbs & spices, charcuteries and conserves! No matter your taste or preference, we promise that all of our products are created and packaged with the utmost care and consideration for you, your health, and the environment.